Our partners
We cooperate with the best on our projects.
FLOS
Named for the Latin word for "flower," FLOS has revolutionized the art of contemporary lighting by combining the latest technology and innovative thought with the finest in craftsmanship. Immersed in a rich Italian tradition of iconic design, FLOS works with the greatest artists in the world to offer timeless, imaginative, and functional products that redefine modern lighting. Nowadays FLOS group includes decorative, architectural and also outdoor range.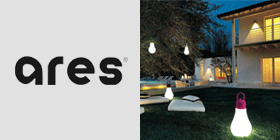 ARES/FLOS OUTDOOR 
Ares came from the natural evolution of an existing manufacturing company of outdoor luminaire present on the international market since 1980. Ares had become manufacturer offering innovative, high quality and sophisticated lighting products. Few years later ARES became part of FLOS and its products are now inclued in FLOS OUTDOOR range.
XAL
XAL is producing luminaires and lighting systems for retail, offices, hotels and living space lighting. Around 400 employees work at sixteen sites in seven countries in development, production and marketing. The headquarters of the company is located in Graz, Austria. Here, the company was founded by Andreas and Claudia Hierzer in 1989. The most important subsidiaries are located in Munich, Zurich, London, and New York.
WEVER & DUCRÉ
A long-standing tradition as a manufacturer of excellent lighting concepts, combined with the striving for constant renewal, has always been at the core of our self-conception. Now, W&D have taken this idea to the next level. By partnering with the renowned Austrian company XAL, W&D remain as passionate as ever, but become as innovative as never before. Based on what W&D were, W&D have re-invented what they are. Experience how outstanding design meets the power of LEDs. Experiment with these new possibilities have created W&D for you. Enjoy first class quality at a still reasonable price. Be part of the new Wever & Ducré experience.
LOUIS POULSEN
Louis Poulsen Lighting's products rest on the lighting philosophy expressed in the three concepts: function, comfort and ambience. LP lighting fixtures are famous for their originality, simplicity and exceptional light treatment. Many famous designers are working for LP, for example Louis Campbell, Ross Lovegrove and Arne Jacobsen.
STILNOVO
Stilnovo is a brand that since its foundation in 1946, has never ceased to fascinate, earning the admiration of historians, collectors and lovers of design thanks to its iconic collections and collaborations with the masters of design from the 1900s. Stilnovo is now part of LINEALIGHT GROUP.
LINEALIGHT
LINEA LIGHT Group success in the lighting market is based on real values that make the difference: experience and innovation. The completeness of catalogues allows Linealight to be present and active on diversified sales channels – urban/outdoor lighting, architectural lighting, decorative lighting and finally industrial lighting. Few years ago LINEALIGHT invested into rebirth of STILNOVO brand.
LUMINA
Lumina was born in 1973, from Tommaso Cimini´s wits who took a bare transformer and handmade the simplest desk light at all, out of it: Daphine. It is worldwide, now, in the most important museums of contemporary art and design. LUMINA started collaborations with some famous designers, like Walter Monici, Riccardo Blumer, Yaacov Kaufman, Emanuele Ricci who made her typicall design and look
LUCE & LIGHT
Designing and producing lighting systems using LED technology is Luce&Light's speciality.
Luce&Light is an authentic example of the Made in Italy branding, with a flair for innovation and a profound appreciation of architectural projects. Their lighting fixtures integrate perfectly with both indoor and outdoor spaces and surfaces to recreate natural architectural illumination.